Memorial Home Care: How Much Does It Cost to Fix a Home After a Storm?
7/18/2016 (Permalink)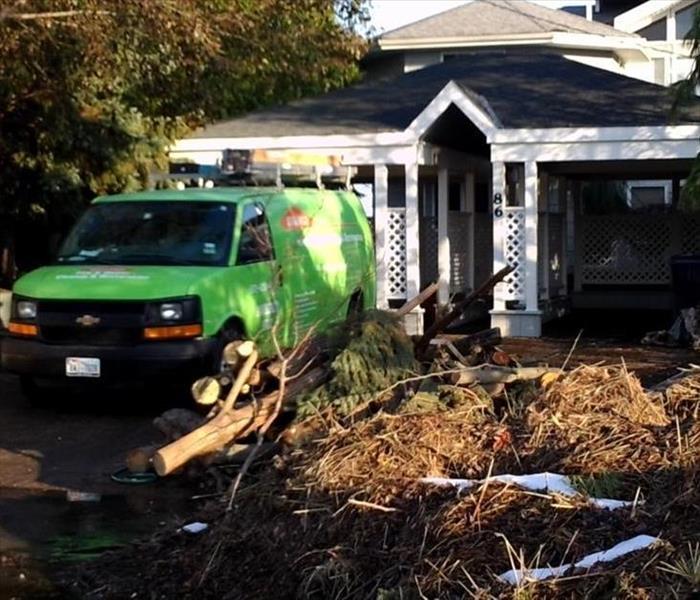 If your home has storm damage caused by the Houston metropolitan area's recent flooding and severe weather, you probably have this question on your mind: How much it is going to cost to restore my home? Well, that all depends on the level of structural damage, quantity of floodwater, and length of time water remained in the home. A mildly damaged home may require $5,000 - $15,000 in restoration costs, while a severely damaged home may require $50,000-$75,000 in restoration costs.
Many people don't realize the sheer number of tasks that go into restoring a home after a Houston flood or other water damages a property. To help you get a better understanding of how much it can cost to fix a property after a flood, here is a list of 8 steps essential to full home restoration.
1. Exterior Assessment/Evaluation of Storm Damage. After the storm, your insurance adjuster and emergency restoration team will begin the process of evaluating exterior damage to your home. If the cause of damage was high winds, hail or a tornado, your roof, gutters, windows, doors, landscaping, and any sheds or garages will have to be assessed for damage. Depending on the level of damage, this process can take up to a couple of hours. During this time, the Houston SERVPRO team will be looking for immediate solutions to secure your property from additional damage until the rebuilding and restoration can begin. These safe-guarding steps may include boarding up windows, doors and roofs.
2. Interior Onsite Assessment/Evaluation. Once floodwaters start to recede around your home, a full evaluation of the interior can begin. The team will be looking for the waterline, and determining the level of damage to interior furnishings, floors, personal items, appliances, and cabinetry throughout the home. While the damage assessment may be updated after the water is extracted, this initial evaluation allows the team to create a water damage restoration plan.
3. Water Extraction. With pumps and hoses, our highly trained restoration specialists from Town & Country SERVPRO will begin pumping floodwaters from your home. They will take special care, knowing that floodwaters often contain a variety of hazards, from scared wildlife and snakes to biohazards and bacteria. Note: It is not recommended for anyone to work in floodwaters without proper protective clothing, footwear, eye protection, and gloves.
4. Removal of Storm Damaged Items. Once water is extracted and before storm cleanup can begin, personal items will need to be removed, individually evaluated, cleaned and restored. This can be a very emotional time for homeowners, but rest assured, our team works with precision to rescue and restore as many personal items as possible.
Generally, personal items are removed prior to the carpet, drywall, insulation, appliances, cabinetry and other storm-damaged structural elements. Of course, the SERVPRO team will inventory each item prior to its removal.
5. Cleaning and Disinfecting. Since floodwaters often contain biohazards, cleaning and disinfecting is a step that simply cannot be skipped. It is vital for the health of your home and family that every surface in the home touched by the water is thoroughly cleaned and disinfected, as quickly as possible. Remaining walls, cabinetry, floors, air ducts and other elements must be scrubbed with bleach or other industrial cleaners, rinsed, and dried thoroughly.
6. Dehumidifying. This step can be frustrating, because it often seems that no progress is being made during this time. However, the dehumidifying process is absolutely essential to prevent mold growth. In as little as 48 hours, mold starts to thrive in the Houston area climate. It is vital that before rebuilding begins, all structural elements remaining are completely dry and humidity is brought back down to pre-storm damage levels.
7. Rebuilding. This is the step when homeowners start to see real progress! New walls go up and get a fresh coat of paint, new floors are laid, damaged cabinetry is replaced, and new or restored appliances are installed. The light at the end of the tunnel is getting stronger.
8. Finishing Touches. After all of these important steps have been carefully followed, the final touches turn your storm-damaged house back into a home. Cleaned and restored furnishings are moved in, draperies are hung, dishes are placed in the cabinets, and pictures are hung on the walls. Finally, your family can move back in to your fully restored home!
Your locally owned SERVPRO of Town & Country is available to assist you throughout the storm damage rebuilding process. We work closely with you and your insurance companies to make sure the claims and restoration process goes as smoothly as possible. Call us anytime disaster strikes your home—we stand at the ready, 24 hours a day.
About Town & Country SERVPRO
The SERVPRO team of Town & Country is Faster to Any Size Disaster, helping residential and commercial property owners when disasters strike. We are experts in the field of mold remediation, water damage, flood and fire cleanup, and other events that damage your property.