Memorial Home Care: Top 3 Signs Mold is Growing in Your Home After the Flood
5/24/2016 (Permalink)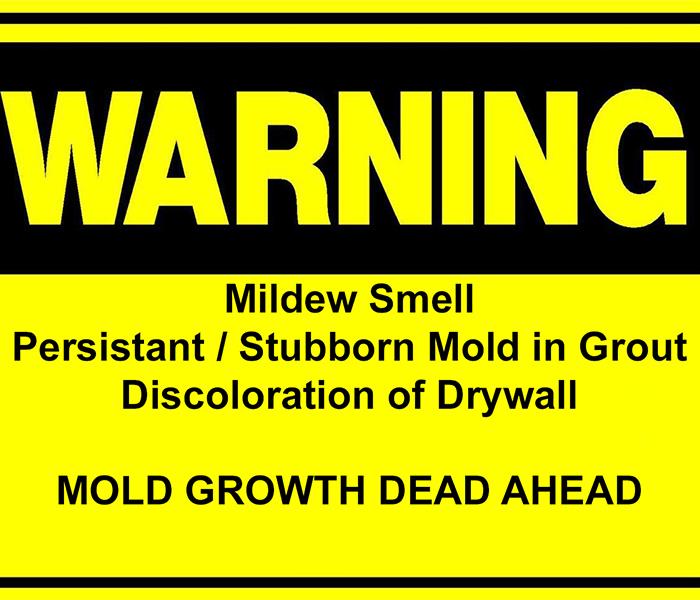 Our community's recent and widespread flooding has overwhelmed community members far and wide. Throughout the greater Houston metropolitan area and Memorial, home and business owners are still struggling with water damage cleanup and preventing mold. As the fast moving waters inundated our area, everyone did their best to preserve property and personal items. In the days that followed, the massive cleanup began, including water extraction, drywall removal, and rebuilding.
After a natural disaster strikes a community, the primary goal is to get life back to normal. While this is an important priority, in some cases the rush to rebuild can lead to mold infestations, particularly with flood cleanup and water damage. Here are the top 3 signs to look for today and in the months ahead that could identify potential mold and mildew growth in your home.
1.Mildew Smell. Mildew in bathrooms and basements is not uncommon in our area. The heat and high humidity make the Houston area an ideal haven for mildew and mold growth. The difference after a flood or significant water damage is that this growth spreads to other areas of the home. If at the end of the day you return home to even a slight aroma of mildew, chances are mold is starting to take root. The time to act is now. Frequently, the Houston SERVPRO team is called to a recently water-damaged home only to find that proper cleaning, dehumidifying, and drying was not completed prior to rebuilding. This often leads to the quick development of a serious mold infestation.
Since we can quickly become desensitized to the smell of mildew, it is wise to close up your home for a day without the air conditioner running, and then walk through inspecting for suspicious odors. At the first sign of mold or mildew, contact SERVPRO of Town & Country so we can conduct a thorough investigation and fix the source of the smell.
2.Persistent/Stubborn Mold in Grout. As we all know, mold and mildew grow quickly in the bathrooms of our homes, particularly in shower grout and joints between the floor and bathtub. But if you notice dark discolorations and mold that reappear even after cleaning with bleach, you may have a serious mold infestation elsewhere in your home. Mold spores are carried through the air, and mold seeks out areas that will allow it to grow and flourish, particularly bathrooms.
The recent storm damage may have contaminated your crawl space, basement, or HVAC system and duct work, spreading spores every time you turn on your system. It is imperative that you call in a professional water damage cleanup team to evaluate your home for mold infestations.
3.Discoloration Spreading on Drywall. Even if saturated drywall was removed after the flood, there is still a chance that mold is growing behind walls, in insulation, and throughout your HVAC system. If you find any areas of darkness or mold growth on your drywall, call your locally owned and operated Town & Country SERVPRO immediately. We will be happy to help you determine the scope of mold infestation and come up with a mold remediation plan.
Water damage cleanup takes time, the right tools, and expertise to help ensure that secondary mold infestations don't take over your home. After a disaster, call Houston SERVPRO to help you throughout the water damage restoration process. Whether you need water extraction, evaluation, cleaning, disinfecting, personal property restoration, or rebuilding, we are here for you.
About Town & Country SERVPRO
The SERVPRO team of Town & Country is Faster to Any Size Disaster, helping residential and commercial property owners when disasters strike. We are experts in the field of mold remediation, water damage, flood and fire cleanup, and other events that damage your property.