Memorial Home Care: Who to Call for Mold Removal
4/21/2016 (Permalink)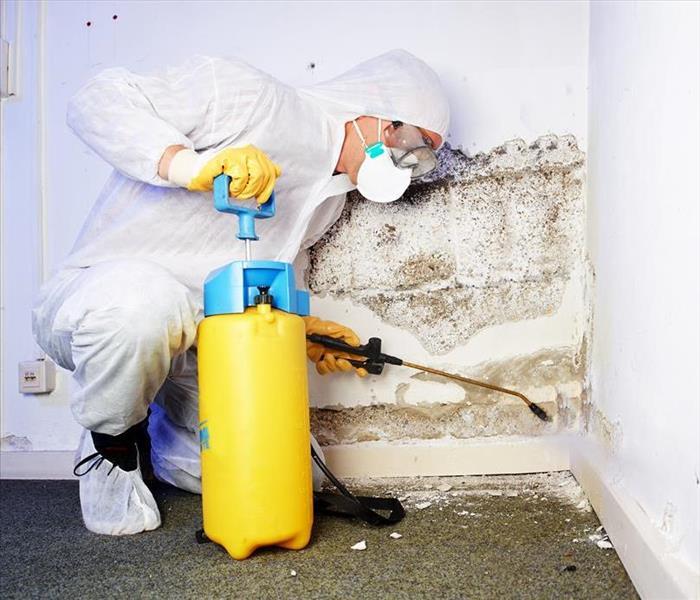 Mold needs moisture to grow and becomes a problem only where there is water damage, high humidity, or dampness.
Do you have a mold infestation spreading rapidly throughout your home? Are you concerned about your family experiencing the potential adverse health effects mold can cause? If so, you need to start the mold removal process immediately. While some gutsy DIY'ers (Jade, this could link to DIY Mold Removal article) will handle a small mold infestation, it is recommended that homeowners and property owners hire a professional mold remediation team for their Memorial area home.
Because the mold removal and restoration process takes significant time, resources, and equipment, the vast majority of homeowners simply do not have access to these necessary items. Removing mold from drywall, carpet, air ducts, furniture, insulation, and other areas requires special protective gear, cleaning supplies, dehumidifiers, and window fans. Additionally, all mold-infested items must be disposed of properly to ensure it doesn't spread.
Areas of the home that are not currently infested with mold can quickly become so if the HVAC system is not shut down and infested areas are not cordoned off with plastic sheeting. Mold spores travel through the air to find a suitable host, and with our hot and humid weather here in the greater Houston metropolitan area, suitable hosts are not difficult to find. Bathrooms, kitchens, cabinets, closets, and other areas that tend to have high levels of moisture, are all prone to develop and harbor mold.
When tackling mold infestations, it is important to clean all affected areas, preferably in one day. This is a daunting but important task. The reason this is so important is because of the way mold spreads, and how quickly it spreads. Many individuals become frustrated when they spread mold cleanup across multiple weekends only to find to start to reappear in just a few days. That is why so many homeowners in Memorial and surrounding communities choose SERVPRO of Town & Country. Our teams has received extensive, professional training and use only the best tools and cleaning solutions available to fully rid your home of mold.
Your local SERVPRO does more than clean up mold infestations; we can help prevent them. Our team has the skills, expertise, and tools necessary to effectively restore your home to its pre-disaster shape after storm damage, fire and smoke damage, sewage backups, and other water damage has affected your Memorial and Houston Metro area home. Most mold infestations are caused by improper cleanup after water damage, that is, when best practices and cleanup protocols were not followed. Water extraction is just the first part of the process; cleaning, disinfecting, drying, and dehumidifying are all key to preventing future mold infestations.
Since mold can begin growing within 48 hours of water damage, it is imperative that you call us immediately. Time is of the essence. We are available 24 hours a day, and we pride ourselves on helping our friends, neighbors, and community members recover when disaster strikes their homes. Call us today for more information on how we can return your home to a healthy condition, and mold free.
About Town & Country SERVPRO
The SERVPRO team of Town & Country is Faster to Any Size Disaster, helping residential and commercial property owners when disasters strike. We are experts in the field of mold remediation, water damage, flood and fire cleanup, and other events that damage your property. In addition to serving our neighbors in northwest Houston, we proudly serve surrounding communities.