Memorial Home Health: 11 Storm Damage Cleanup Tips
12/7/2018 (Permalink)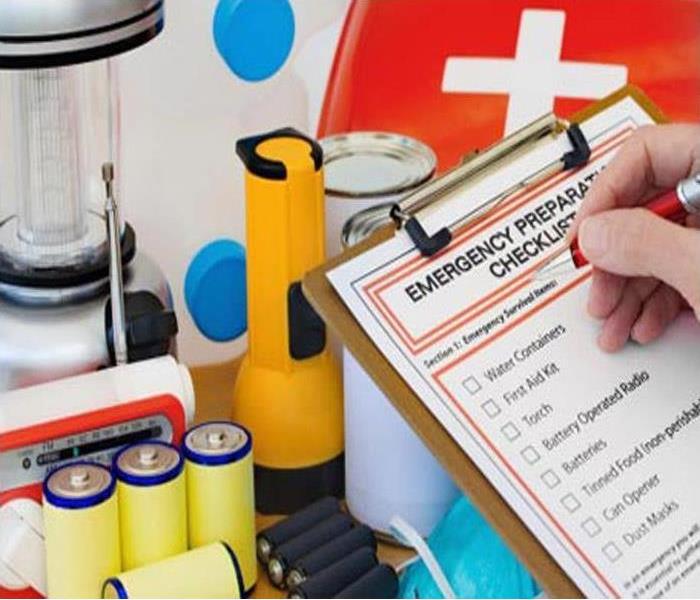 Storm Tip: You can also request checklists and other disaster preparedness tools from SERVPRO or at ready.gov.
11 Storm Damage Cleanup Tips
Here in the Houston area, we have our share of severe weather. Tornadoes, flash floods, and hurricanes cause significant storm damage in Memorial and surrounding areas. While good preparation in advance of a storm is always your first level of defense, in some cases, Mother Nature will take its toll and damage your property. Use these 11 tips for cleaning up after a storm.
1. Get Appropriate Protective Clothing. Prior to entering your home, it is imperative that you don protective boots, clothing, gloves, eye protection, and a mask. Flood waters carry sewage, bacteria and chemical compounds that may be dangerous.
2. Document the Damage. To aid in insurance and FEMA claims, it is essential that you document the damage as soon as it is safe to do so. Take photos and videos of the exterior of your home from all angles, including the roof, patio, and landscaped areas. Also, take photos of each interior room and each item that has been touched by the water.
3. Water Extraction. While you may be able to pump water from your home with a sump pump, be very careful. Flood waters in our area carry harmful and potentially dangerous bacteria, rodents, insects, and snakes. It is highly recommended to have the water extraction handled by a locally owned and professional disaster response team.
4. Open Windows. Circulating fresh air is an important step for cleaning up after flood damage and preventing mold growth. While it may be tempting to switch on household fans, prior to using the electrical appliances, the electricity needs to be inspected.
5. Remove Personal Items. Furniture, clothing, and other items in the house can be removed to speed the drying. Prior to throwing away damaged items, photograph them, and have them evaluated to see if they can be cleaned and restored. This is a key part of our storm damage cleanup service in Memorial; we can save many items that appear to be destroyed.
6. Remove Carpeting, Wet Drywall, and Insulation. If the flood waters contain sewage, which many floods do, the carpet in the home will have to be removed. Removing saturated carpet and its padding is not an easy task, be careful. Drywall and insulation that has been saturated by flood waters will have to be removed from the home in order to prevent mold infestations in the future.
7. Scrub Every Surface. To rid your home of bacteria, you must scrub every surface with a powerful disinfectant, preferably with bleach. Wear proper protective clothing and mask for this process. Your local SERVPRO of Houston is available 24x7 and stands at the ready to inspect, extract water, disinfect, dehumidify, and restore your home quickly.
8. Trees On The House. If any trees are touching power lines, do not disturb them. For limbs that are on the house, it is best to seek professional assistance, as further damage to the structure may occur with improper removal.
9. Clean Yard and Patio Areas. Remove the debris from the yard, again be sure to wear proper protective clothing. Be mindful that snakes, rodents, insects, and other animals may be hiding in bushes and under decks.
10. Clean Out Window Wells. If your window wells filled with water, they will need to be cleaned out thoroughly. Replace any damaged window well covers promptly as the next storm could cause further damage.
11. Board Up Broken Windows. If the storm broke any windows, cover from the exterior with plywood, until the flood damage restoration begins in your Memorial home.
If this list of tips is overwhelming, it should be. Cleaning up and restoring after a storm or water damage in the Houston area requires hard work, proper tools, and specialized training.